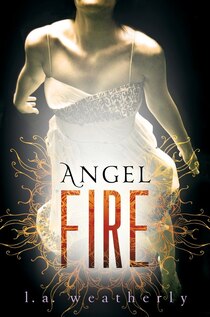 Angel Fire
Pages: 638
Rating: 4/5
In the wake of the Second Wave, the angel menace has exploded, and Alex and Willow are on the lam. Willow has a prophetic dream that points them to Mexico City, where they connect with a fledging group of angel killers. Alex takes the team I. Hand, training them for a rush attack on the Seraphic Council, an elite group already under watch by Willow's angel-father, Raziel, who wants "The Twelve" dead for sinister reasons of his own and will stop at nothing.
What Alex doesn't know is that there was also a boy in Willow's dream, one she let overpoweringly attracted to. And when enigmatic Seb shows up in the flesh, he turns out to be another- possibly the worlds only other- half angel.
Seb's been searching for Willow all his life...and as the team prepares for grim warfare against a Devine enemy, Willow must weigh her love for Alexagainst the truth of her nature, with everything to lose.
Angel Fire is the second book too Angel Burn in L.A. Weatherly's trilogy. A year ago when I first read Angel Burn, I really enjoyed it and I was really anticipating the sequel. I'll start off by saying that Angel Fire was an incredible follow up to Angel Burn.
What I Loved....
At first when I saw how many pages there were I started to get disappointed because usually, longer books tend to drag, but Angel Fire did not have this issue. Since this book has more than one "problem" occurring at once, there was always something exciting to read about.
In this book we return to our beloved Willow and Alex with a new addition, Seb. Hmmmm Seb is one of those love-hate kind of characters for me. I really loved that Willow finally had someone she could relate to and discuss all the questions and things she's been worrying about. With Seb, she's got someone she can really learn a lot from, and I think this was really important for Willow's character.
What I didn't like....
Okay so remember when I said I both loved and hated Seb- well here we go. All of a sudden, in Angel Fire, we have a love triangle going on. Actually, when you think about it, it's more of a love square. We've got Willow and Alex who are madly in love and having the time of their lives (well, as much as they can when they're being targeted by evil angels). With suddenly two new characters, Seb and Kara, that are causing issues. Although entertaining at times, there were also moments were I was yelling at my book (and yes, I mean yelling) "WHAT ARE YOU DOING?!?!" "YOU STOP THAT!" and, my favorite "I WILL GO INSIDE THAT BOOK AND HURT YOU." Sometimes I just can't help myself.....
I also found Kara especially annoying towards the end of the book. For one I felt her attraction to Alex is/was based solely on his resemblance to his brother- which made her forwardness to Alex at the end nauseating.
Favorite Quotes...
"This is the ultimate bad-boy date, isn't it? Breaking into a different country."
"Hey, it makes a change from hot-wiring cars together."
"Been there, done that....Alex seriously, are you sure no one's going to shoot us?"
― Alex and Willow
""I don't speak Spanish," I got out. "No hablo espanol.""
-Willow
The Cover....
Angel Fire's cover has the same "feeling" as Angel Burn, with, what I assume, is Willow on the cover. The cover is alright, but it's definitely not the reason I've read these books. In a word, the cover is, ehhh.
Overall...
Overall this book was a fabulous sequel to the first book. It was filled with romance, action, heartache, and enough mystery that encourages you to read on. Angel Fire gets a well deserved bookworm rating of 4/5! ANGEL FEVER, the third and final book in the trilogy, is set for a release sometime in early 2013. Be sure to check out the book trailer below for Angel Burn. Keep Reading!
Your YA Bookworm,
Caitlin <3