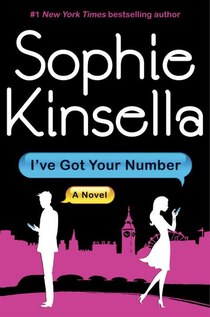 I've Got Your Number: A Novel
Pages: 433
Rating: 5/5
I've lost it. :( The only thing in the world I wasn't supposed to lose. My engagement ring. It's been in Magnus's family for three generations. And now the very same day his parents are coming, I've lost it. The very same day! Do not hyperventilate, Poppy. Stay positive :) !!
Poppy Wyatt has never felt luckier. She is about to marry her ideal man, Magnus Tavish, but in one afternoon her "happily ever after" begins to fall apart. Not only has she lost her engagement ring in a hotel fire drill but in the panic that follows, her phone is stolen. As she paces shakily around the lobby, she spots an abandoned phone in a trash can. Finders keepers! Now she can leave a number for the hotel to contact her when they find her ring. Perfect!
Well, perfect except that the phone's owner, businessman Sam Roxton, doesn't agree. He wants his phone back and doesn't appreciate Poppy reading his messages and wading into his personal life.
What ensues is a hilarious and unpredictable turn of events as Poppy and Sam increasingly upend each other's lives through emails and text messages. As Poppy juggles wedding preparations, mysterious phone calls, and hiding her left hand from Magnus and his parents . . . she soon realizes that she is in for the biggest surprise of her life.
I've Got Your Number is by New York Times Bestselling Author Sophie Kinsella. Sophie Kinsella (AKA Madeleine Wickham) is well known for the bestselling Shopaholic series. I guess I'll start off by saying that I've Got Your Number (let's call it IGYN) was probably one of the most funniest book I've ever read. About a week ago my mom (Shout-out to mama bookworm- love ya mom!) came home with this book and immediately started reading it. Being the Sophie Kinsella fan that she is, I didn't see her for days*. The only evidence I had of her existence was the booming sounds of laughter coming from her room. After she finished the book she started raving too me on how funny and great the story was. So I decided to give it a shot- and I'm so glad that I did!
What I Loved...
What didn't I love? The whole story was just such a great easy and fun read. The main character, Poppy, is such a lovable and funny character. Seeing her try to justify all the mistakes she made had me laughing on more than a few occasions. Her character is also extremely likable because of her tendency to be so kind and appreciative to others. Because of this, she tries to fix Sam's antisocial attitude to make people like him better, but, we can see that it doesn't always go as planned ;)
The back and forth texting between Poppy and Sam was so, giggle-making, smile-prompting, cute! It was such a unique way to start a relationship between these two complete strangers. As a teenager, a whole book essentially focused around a cellphone was strangely relatable**.
Footnotes, footnotes, footnotes***. The whole book contains footnotes by Poppy that add her own additional thoughts to the story. I loved that Sophie Kinsella decided to do this, especially because when you read the book, you'll find out the significance of "the footnotes." They just added so much to the story because they were such sarcastic opinions......which again, were also really relatable****.......
It's hard to write down everything that I loved because I think it's much more entertaining to read them for the first time yourself. But I will say that there are just some great parts in the book that will make you laugh out loud without even thinking about it. So be careful reading this book in public because people will look at you funny if they catch you smiling while reading......just saying*****.
The Cover...
The design for the cover matches perfectly with the feel of the story, cute cover= cute book. The silhouettes (which are obviously Sam and Poppy holding their phones) are in front of an England skyline, which really sums up the whole story perfectly. Even the combination of the black, pink and blue colouring work together nicely. Big fan, big fan!
Favourite Quotes...
"I don't speak Japanese, I don't know anything about Japanese business or Japanese culture. Apart from sushi. But I can't exactly go up to him and say "Sushi!" out of the blue. It would be like going up to a top American businessman and saying, "T-bone steak!" -Poppy
"We're playing Scrabble. It's a nightmare."
"Scrabble?" He sounds surprised. "Scrabble's great."
"Not when you're playing with a family of geniuses, it's not. They all put words like 'iridiums'. And I put 'pig'." -Poppy and Sam******
"There's so much to do. It's insane. Insane. It would have helped if Clemency had typed out the order of service properly," she adds, a little savagely. Poor Clemency flushes beet-red and I shoot her a sympathetic smile. It's not her fault she's severely dyslexic and put hymen instead of hymn and the whole thing had to be redone. -Lucinda and Poppy
Overall...
Overall, this book is the ultimate chick book. It is perfect for anyone that wants an easy, fun, romantic read and I highly recommend it as a book you can recommend to your moms, aunts, ect. Beware that there is some mature content that isn't appropriate for all ages. What are your thoughts on the book? Let me know in the comments and follow me on twitter! Keep Reading!
* Okay, so maybe not days
**Hmm I wonder why...
***That's what these (what your reading right now) are called
****Just ask my mother....
*****Not that that's happened to me or anything.....cause that would be embarrassing....pffft
******This is my absolute favourite, but shhhhh, don't tell the others 0_0
Footnotes By:
Caitlin <3