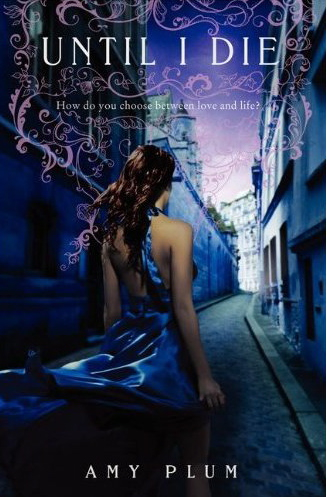 Until I Die
Author:
Amy Plum
Publisher:
HarperTeen
Pages
: 368
Rating:
4.5/5
Kate has chosen to leave the comfort and safety of her human world in order to join Vincent in the dangerous supernatural universe he inhabits. For his part, he has sworn to go against his very nature and resist the repeated deaths that are his fate as a revenant—even though it will bring him immeasurable suffering.
Heady with romance and rife with danger, the second book of the DIE FOR ME trilogy follows Vincent and Kate as they search—separately—for a solution to their plight, pursuing their quest from the glamorous streets of Paris to the city's squalid underbelly. Although the experiment that Vincent attempts is progressively destroying him, he insists on seeing it through to the end. This prompts Kate to strike out on her own into the dangerous world of the revenants to find another way. But she unwittingly puts everyone she loves at risk when she discovers a family of ancient healers who hold the key to a secret that could help the bardia—the good revenants—overthrow their murderous enemies, the numa, forever.
And while the lovers search for something they have little chance of finding, a new threat arises among the numa. Kate finds herself in the midst of an ancient and deadly war, not as a bystander…but as a target.
Until I Die is the second book to Amy Plum's first novel, DIE FOR ME. I read Die For Me just a few months ago and I absolutely fell in love with the whole story (read my review HERE!) So, having loved the first book, I had high expectations for book two- luckily I wasn't disappointed!
Until I Die really focuses on the, I guess you could say, "brick wall" that is building between Kate and Vincent. With Vincent being a revenant, he has an instinctive drive to sacrifice himself to save humans. Unfortunately, Kate is unable to deal with the thought of seeing Vincent constantly die- especially after just losing her parents in a car accident. As the struggle to resist becomes more and more difficult for Vincent, he tries an experiment that Kate notices is making him weaker. In hope of finding another solution, Kate does some of her own research that leads to more than she ever expected.
Another really great
feature with this second book, is we got to learn more history about revenants. Being able to know more about our favourite revenants was really amazing. !
It was so nice to return to the Kate and Vincent duo! This couple has become one of my ultimate favs! Everytime they are together I get a giddy with anticipation, ughh I just love them. What's really nice is, since they were already together throughout a majority of the first book, they seem to be really comfortable with each other now (not in a boring-comfortable way, but a
aaaw
that's sweet-comfortable way) I can't wait to see what's next for them in book three!
I said this in my last review, but I'm gonna say it again- I love the setting of this book. Paris makes the book and the series even more magical than it already is. I have also continued to love the mix of English and French dialogue! For those of you who are possibly staring at your computer screens in confusion, on her website, Amy Plum posted who speaks French and who speaks English:
Georgia and Kate speak English with each other and with the other kids at their international school. The sisters speak French with their grandparents. Kate speaks English with Vincent, because he likes to practice his English with her, and it makes her feel at home. And besides speaking English with Ambrose, Kate speaks French with the rest of the revenants.
Georgia (Kate's sister) continued to be ridiculously funny, I couldn't get enough of her character! Jules also has raised my "suspicious radar" in Until I Die. I don't know if anyone else noticed this, but there was more than a few times where I almost felt like Jules has some deeper feelings for Kate. Grrrrr *frowny face* Bad Jules! Two new characters, Violette and Arthur are also introduced in this book, and they add some amusing drama to the plot!
I have to say that for about 2/3 of this book, I found things were going at a bit of a slow pace. Don't get me wrong, as a fan of seeing characters in their "normal" environment, I didn't mind. But for those of you that get bored easily, the last third of the book totally makes up for it! I was completely blown away by the cliffhanger at the end, I'm so depressed that I have to wait another year for the next book :'(
Favourite Quotes...
"Kate, I admit that we aren't in the easiest of situations. But are you always this . . . complicated?"
I opened my mouth to say something, but Vincent shook his head, grinning. "Actually, don't answer that. Of course you are. I wouldn't be so totally into you if you weren't."
-Vincent and Kate
"Now that you are here--now that we're together-- I can't imagine going back to the life I had before. I don't know what I'd do if I lost you now. I love you too much" -Vincent
"How's your dance card look?".....
"Double-check your century Jules. No dance cards." -Jules and Kate
"Still in one piece?" Vincent teased, pulling me close & planting a soft kiss on my lips. "After dirty-dancing with Jules, I'm not sure."
Overall...
Overall Until I Die was a great sequel to a series I have fallen madly in love with. The third book, IF I SHOULD DIE, is set to be released sometime in May 2013 according to Goodreads :'( What do you guys think about Die For Me?! Are you as much of a Vincent fan as I am?! Let me know in the comments and be sure to subscribe ! Also, don't forget to watch the book trailer below (makes me really want to visit Paris!) Keep Reading!