Hello Bookworms! Yesterday was a huge book release day for me- lots of sequels to series I absolutely LOVE came out. Unfortunately, I wasn't able to get my hands on them yesterday, but thankfully I currently have them all on my bookshelf (just waiting to be read!) !! So I thought I would share with you what I got, as well as a synopsis of each book in case you, yourself, decide to read them! Be sure to look out for reviews on all these books soon :D
The demon Lilith has been destroyed and Jace has been freed from her captivity. But when the Shadowhunters arrive to rescue him, they find only blood and broken glass. Not only is the boy Clary loves missing–but so is the boy she hates, Sebastian, the son of her father Valentine: a son determined to succeed where their father failed, and bring the Shadowhunters to their knees.
No magic the Clave can summon can locate either boy, but Jace cannot stay away—not from Clary. When they meet again Clary discovers the horror Lilith's dying magic has wrought—Jace is no longer the boy she loved. He and Sebastian are now bound to each other, and Jace has become what he most feared: a true servant of Valentine's evil. The Clave is determined to destroy Sebastian, but there is no way to harm one boy without destroying the other. Will the Shadowhunters hesitate to kill one of their own?
Only a small band of Clary and Jace's friends and family believe that Jace can still be saved — and that the fate of the Shadowhunters' future may hinge on that salvation. They must defy the Clave and strike out on their own. Alec, Magnus, Simon and Isabelle must work together to save Jace: bargaining with the sinister Faerie Queen, contemplating deals with demons, and turning at last to the Iron Sisters, the reclusive and merciless weapons makers for the Shadowhunters, who tell them that no weapon on this earth can sever the bond between Sebastian and Jace. Their only chance of cutting Jace free is to challenge Heaven and Hell — a risk that could claim any, or all, of their lives.
And they must do it without Clary. For Clary has gone into the heart of darkness, to play a dangerous game utterly alone. The price of losing the game is not just her own life, but Jace's soul. She's willing to do anything for Jace, but can she even still trust him? Or is he truly lost? What price is too high to pay, even for love?
Darkness threatens to claim the Shadowhunters in the harrowing fifth book of the Mortal Instruments series.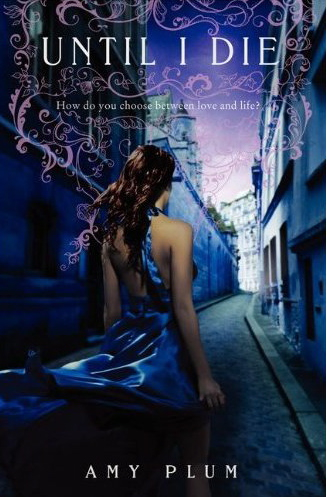 Kate and Vincent have overcome the odds and at last they are together in Paris, the city of lights and love.
As their romance deepens there's one question they can't ignore: How are they supposed to be together if Vincent can't resist sacrificing himself to save others? Although Vincent promises that he'll do whatever it takes to lead a normal life with Kate, will that mean letting innocent people die? When a new and surprising enemy reveals itself, Kate realizes that even more may be at stake—and that Vincent's immortality is in jeopardy
.
First Book (Die For Me) Review Here!
Escape from the realm of the dead is impossible
when someone there wants you back.
Seventeen-year-old Pierce Oliviera isn't dead. Not this time.
But she's been taken by John Hayden, lord of the Underworld, to the dim, twilit world between heaven and hell, where the spirits of the deceased wait before embarking upon their final journey.
John claims it's for her own safety, to protect her from the Furies who yearn for vengeance against him. But John may have reasons of his own for wanting to keep Pierce close…
And soon Pierce learns that while she might be safe from the wrath of the Furies in the Underworld, the people she loves back on earth are not. Can she convince John to release her in order to save the life of someone in her family? Or will the price he asks her to pay for her freedom turn out to be too high?
First Book (Abandon) Review Here!
Zara is at the center of an all-out war, and an impending apocalypse. True, she's successfully rescued Nick from Valhalla, but it simply isn't enough. Bedford is being ravaged by evil pixies and they need much more than one great warrior; they need an army. Zara isn't sure what her role is anymore. She's not just fighting for her friends, she's also a pixie queen. And to align her team of pixies with the humans she loves will be one of her greatest battles yet. Especially since she can't even reconcile her growing feelings for her pixie king…
Unexpected turns, surprising revelations, and one utterly satisfying romantic finale make Endure a thrilling end to this series of bestsellers.
Well that's it folks! I'm so excited to start reading these, hopefully *fingers crossed* great releases! There are many more exciting books coming out later in May so be sure to check back for possibly another Y.A. Book Haul soon :D Did I miss any must-reads?! Let me know in the comments and be sure to stalk me on twitter, facebook, and goodreads by finding links all over my blog :) Keep Reading!