It's that time of year again, a time filled with snow, decorations, trees and busy malls! With all of the hustle and bustle of the holiday season going on around us, it's easy to forget what's truly important- Bookmas! So, to help us prepare and count down to this special holiday that is coming our way, I will be going through the 12 Days of Bookmas! What's that you ask? Each and every day, until December 25th, I will be completing a special Bookmas task that will showcase some of my "Bookworm Favourites!" Your job? To read, comment, and spread Bookmas cheer by telling your friends and sharing Bookmas posts on facebook and twitter using the hashtag #12DAYSofBOOKMAS ! Merry Bookmas to all, and to all good reading!
On the tenth day of Bookmas my fictional boyfriend sent to me,
and a swoon worthy scene for me!
Task: *
Jumps up and down
* I'm excited for this task! Choose ten swoontastic, hot and absolutely delicious fictional boys :) Provide one or all of the following for each hottie: a picture of what you imagine this character looking like/ a quote/ ect..
This is one of my favourite tasks for Bookmas-- who doesn't love a little "fictional candy" before the holidays?!
.....Honestly, I sometimes question my sanity....but then I come on here and see all of you are just like me, and then I don't feel so bad LOL :P
....You're welcome ;)
I keep smiling, giving Ash a little wink before turning around. Daemon stood there with two cups, one eyebrow arched.
"Bad little Kitten," he murmured.
Grinning, I stretch up and kissed him.
"One of the Silent Brothers is here to see you. Hodge sent me to wake you up. Actually he offered to wake you himself, but since it's 5 a.m., I figured you'd be less cranky if you had something nice to look at."
"Meaning you?"
"What else?"
0_0 ...Again...You're welcome !!
"You can call me Patch. No really. Call me."
"I love her because she has become something more to me. She's become my life."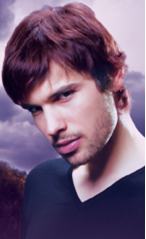 "Wait until next time," he warned. "I'll do things that'll make you lose control within seconds."
"I miss the outline of your body pressed to mine and the feel of your breath on my neck when you sleep. I miss the sound of your voice. I need you. I have to go soon, but I will be back for you. I promise you. Then, I will show you that there is still beauty in the world -- not a future full of despair. I promise you, I will."
"Because I love you, we share each other's problems. When we fight, we fight together. I'm going to be by your side no matter what, whether you like it or not. That's what love is, Alex. You never have to face anything alone again. And I get what you're saying. I don't agree with it, but I will support you in any way I can."
"I tried to be a better person for her– but it was to impress her, to get her to want me. But when I'm around you, I want to be better because… well, because it feels right. Because I want to. You make me want to become something greater than myself. I want to excel. You inspire me in every act, every word, every glance. I look at you, and you're like… like light made into flesh. […] You have no clue how beautiful you are or how brightly you shine."
"Remember when you tried to convince me to feed a poultry pie to the mallards in the park to see if you could breed a race of cannibal ducks?"
"They ate it too," Will reminisced. "Bloodthirsty little beasts. Never trust a duck."
"Hey, princess."
"Hey," I whispered, as Ash slipped his arms around my waist from behind, drawing me close. I could feel his glare aimed at Puck over my head, a silent, protective gesture that spoke louder than any words. Mine. Back off."
I'm sure all of you will have plenty of other YA Hotties to add to my list here, so be sure to let me know who they are in the comments below! Merry Bookmas!
{Bookmas Giveaway}
***For any extra tweets that mention @TheYABookworm
and
#12DAYSofBOOKMAS, I will manually add you
one extra entry
for up to
ten
tweets a day***