Yes, it is that time of the week. The day we dread and wish would never come- Mondays.

*Wipes tear*

But have no fear, Memory Lane Monday is here! Every Monday, here at TheYABookworm, I'll do a special post called Memory Lane Monday. What's that you ask? Memory Lane Monday is a once-a-week post where I (or any other bloggers that wish to participate) choose one

book that I've previously read to be featured on that day. From the book chosen, I will pick two of my favourite quotes and write a little blurb containing my quick thoughts on the book. The books that I choose will not be books I've reviewed- since I've read so many books, I want to share with you my opinions on ones that I won't get the chance to fully review (because seriously, rereading dozens of books would take a year...or two)! Be sure to participate by leaving your "Memory Lane Monday" in the comments, or a link to your blog post with the hash-tag

#YAMemoryLaneMonday on twitter :D
This Week's Memory Lane Monday...
The Unbecoming Of Mara Dyer By: Michelle Hodkin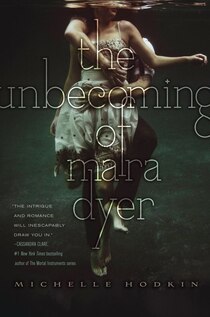 Mara Dyer doesn''t think life can get any stranger than waking up in a hospital with no memory of how she got there.

It can.

She believes there must be more to the accident she can''t remember that killed her friends and left her mysteriously unharmed.

There is.

She doesn''t believe that after everything she''s been through, she can fall in love.

She''s wrong.
Top Two Favourite Quotes...
#1 "What would you do if I kissed you right now?"
I stared at his beautiful face and his beautiful mouth and I wanted nothing more than to taste it.
#2 I half expected to see woodland creatures burst forth from the buildings and break into song. Everything about the place shrieked WE ARE PERFECT HERE AND YOU WILL BE TOO! No wonder my mother chose it.
~~~~~~
The Unbecoming of Mara Dyer is a book I put off reading for a while. Why's that? To be honest....I'm a little confused as to the answer to that question. Thankfully though, after reading a raving review, I decided to give this book a shot. Before reading I was a bit worried that with all the hype this book received I would end up disappointed.....but I have to say, that hype is rightfully deserved. In fact, I might end up being part of the "top contributors" to Mara Dyer hype fest! =D
I would definitely classify myself as a "romantic bookworm." I usually lose interest with a book if it doesn't have some sort of romantic element included. Luckily I didn't have to worry about this in The Unbecoming of Mara Dyer. The love that begins to brew between Noah and Mara was incredible (and that's not even a good enough word to describe it). I loved the bit of sexual tension between the two of them (sexual tension always makes things a bit sexier) as well as the support system they build with each other by the end of the book that gives this couple that sweetness factor I tend to devour. I can't talk about the romance without mentioning how hard I fell for Noah! From the moment I "saw" him, he was added to my fictional boyfriend list!
The Unbecoming of Mara Dyer is truly an emotional mosaic that fits together comedy, romance, and breath-catching adventure into a beautifully-dark story that you'll be unable to put down! The novel is unique and has this darkness hidden within its pages that will mess with your mind and change the way you look at mirrors for the rest of your life! I totally recommend that you buy this book if you haven't already (but be prepared to be reading non-stop because you won't be putting this one down!) What did you think about The Unbecoming of Mara Dyer? What is your opinion on Noah Shaw? Be sure to let me know in the comments below! Keep Reading!
The Unbecoming of Mara Dyer @ Amazon