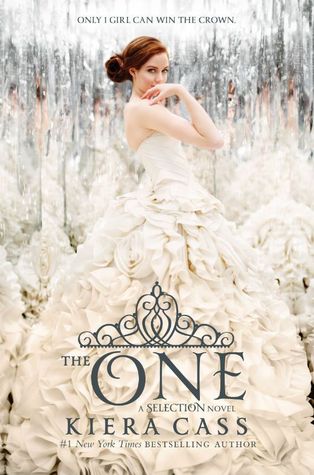 The One (The Selection #3)
Author: Kiera Cass
Publisher: Harper Teen
Pages: 323
Rating: 4/5
The Selection changed the lives of thirty-five girls forever. And now, the time has come for one winner to be chosen.




America never dreamed she would find herself anywhere close to the crown—or to Prince Maxon's heart. But as the competition approaches its end and the threats outside the palace walls grow more vicious, America realizes just how much she stands to lose—and how hard she'll have to fight for the future she wants.




From the very first page of The Selection, this #1 New York Times bestselling series has captured readers' hearts and swept them away on a captivating journey... Now, in The One, Kiera Cass delivers a satisfying and unforgettable conclusion that will keep readers sighing over this electrifying fairy-tale long after the final page is turned.
"The best people all have some kind of scar."
~~~~~
"You are not the world, but you are everything that makes the world good.
~~~~~
"Break my heart. Break it a thousand times if you like. It was only ever yours to break anyway."
Have you read THE ONE? What did you think about how things went down? Be sure to let me know in the comments below! Keep Reading!