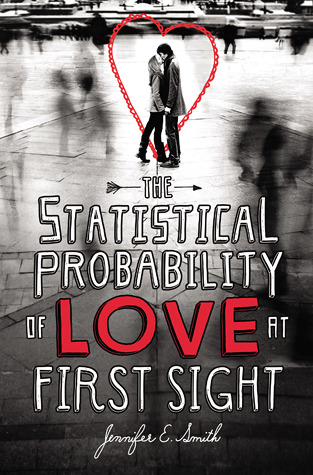 The Statistical Probability of Love At First Sight
Author: Jennifer E. Smith
Publisher: Poppy- Little Brown
Pages: 236
Rating: 4/5
Who would have guessed that four minutes could change everything?


Today should be one of the worst days of seventeen-year-old Hadley Sullivan's life. Having missed her flight, she's stuck at JFK airport and late to her father's second wedding, which is taking place in London and involves a soon-to-be stepmother Hadley's never even met. Then she meets the perfect boy in the airport's cramped waiting area. His name is Oliver, he's British, and he's sitting in her row.




A long night on the plane passes in the blink of an eye, and Hadley and Oliver lose track of each other in the airport chaos upon arrival. Can fate intervene to bring them together once more?




Quirks of timing play out in this romantic and cinematic novel about family connections, second chances, and first loves. Set over a twenty-four-hour-period, Hadley and Oliver's story will make you believe that true love finds you when you're least expecting it.
Buy On Amazon
Despite the fact that I had heard many great things about The Statistical Probability of Love At First Sight (let's call it TSPOLAFS for short, because if there's anything my blogging side dreads the most, it's long titles, haha) it still managed to surprise me in the best way possible. It's a story that although seems as if it would be a sweet and simple love story, was in actuality that and so much more. In a span of 24 hours, Jennifer E. Smith manages to take readers on Hadley's raw and emotional journey dealing with heartbreak, forgiveness, anger, love, happiness and more.
The premise of the story is simple. Hadley misses the plane that was meant to get her to London in time for her father's wedding by only four minutes; A trip, I should add, she was reluctant to take in the first place. Hadley's father left her mother and her to carry on a life in London with a woman that although she's never met, she hates anyway. Although TSPOLAFS comes off as a love story between two strangers, it goes far beyond that. The novel is probably better described as Hadley's rediscovery of love in a life where love for her ultimately ended in heartbreak. Hadley starts off just trying to be civilized towards her father on his wedding day, but it doesn't take long for her to realize she wants a better relationship than that with him. It was incredible to witness such character growth in her in such a short period of time.
Let's talk Oliver, AKA, the cute British boy Hadley ends up sitting next to on her new flight to London. Oliver, unknowingly to both us and Hadley at first, is dealing with issues of his own. Despite this fact, he helps Hadley through the claustrophobic feelings she develops on the plane with his flirty and wise ways. Him and Hadley instantly hit it off, and it's clear they both have chemistry that can only be described as incredibly and adorably cute. It's clear what is going on between the two of them goes beyond simple attraction, and instead reaches a level that can only be explained as "meant to be." Their witty conversations, deep connection and frequent meetings within such a short period of time made their interactions an anchor Hadley was able to draw strength from when it came time to facing her dad.
Favourite Quotes...
"It's not the changes that will break your heart; it's that tug of familiarity."
~~~~~
"Love is the strangest, most illogical thing in the world."
Overall, The Statistical Probability of Love At First Sight was a sweet, emotionally raw novel about love and the many other feelings that come along with it. TSPOLAFS is short enough to be read in one sitting that will leave you hopeful for the journey ahead of these characters and remind you just how suddenly a few moments/seconds/minutes can impact your life. Have you read TSPOLAFS? What are your thoughts? Be sure to let me know in the comments below! Keep Reading!