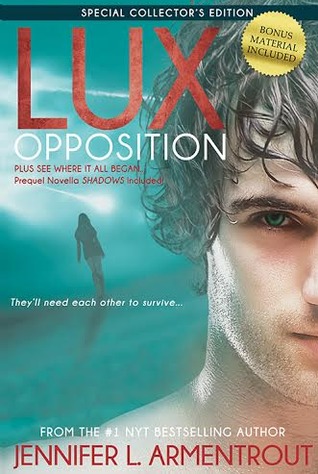 Opposition (Lux #5)
Author: Jennifer L. Armentrout
Publisher: Entangled Teen
Pages: 500
Rating: 5/5
Katy knows the world changed the night the Luxen came.


She can't believe Daemon welcomed his race or stood by as his kind threatened to obliterate every last human and hybrid on Earth. But the lines between good and bad have blurred, and love has become an emotion that could destroy her—could destroy them all.


Daemon will do anything to save those he loves, even if it means betrayal.


They must team with an unlikely enemy if there is any chance of surviving the invasion. But when it quickly becomes impossible to tell friend from foe, and the world is crumbling around them, they may lose everything— even what they cherish most—to ensure the survival of their friends…and mankind.


War has come to Earth. And no matter the outcome, the future will never be the same for those left standing.
It's bittersweet writing this review because it means that after I hit publish, this truly will be the end of my journey with Daemon and Katy. If you follow me online anywhere, you know that Opposition has been a book I've highly anticipated since I knew of its existence, and now that I've read it, all I have to say is that the wait has been worth it. Katy, Daemon, Dee, Archer, Dawson, Bethany, Hunter, Serena, and heck, even Luc are all characters I will greatly miss.
Let's talk Katy and Deamon because we all know that they are the magical core that makes this series so entertaining, swoony and perfect! Like their relationship in Origin, the two of them worked and fought as a pair-- showing real growth in their relationship. Individually, they've both also come a long way from the characters that we met in Obsidian, but they've managed to do this while still remaining true to themselves. Katy is still a book loving & blogging nerd but now, like the heroines she reads about, she can also kick some serious butt! And Daemon, well, he's still Daemon with just a little more gush and a little less ass-ness, haha! As a couple, their swoony scenes are sexier, their love is more intense, and their bond is truly unbreakable. I won't hold back either from saying I was quite pleased to receive some pleasurable dosages of a shirtless Daemon Black ;)
Along with Katy and Daemon came the return of other series favourites. The two I was probably most excited to see were Hunter and Serena (the main characters from Obsession). I had an inkling the two of them would pop up in the final Lux novel and I was so glad when they finally did! It was incredibly cool to see them interact with everyone and see snippets of where their relationship was at. Story-lines that bleed into one another like this are fascinating to me!
Opposition was so addicting that the pages practically were flipping on their own! The many action scenes kept the pace moving along, while still leaving enough time to build on characters' relationships and see how the characters dealt with the emotional trauma and uncertainty that came along with being in the middle of a war. Seeing surprise references once again to Kaidan and Anna (Sweet Evil Trilogy) and the blogging world were also fun additions that make the series feel less fictional and its characters feel more like your best friends!
The epilogue was probably my favourite part of the entire novel. It wrapped everything up while still hinting at the fact that things won't necessarily be good forever (I wouldn't be surprised if Jennifer L. Armentrout were to announce a new Lux series told from the POV of a certain character that is young enough to be a potential heroine in the future). The one thing that left me shaking the book after the epilogue finished is the reference to the note Daemon passed Katy in class. At first I thought I had simply forgotten what it had said, but after some intensive investigating (*cough* Google-ing *cough*), I have come to realize we were never told what was in the note! I NEED TO KNOW GUYS! THIS
IS CRUEL! The entire last page is now this major tease that is just eating me up inside!
Favourite Quotes...
"I broke every rule of my kind to heal you and keep you with me. I … burned down an entire city to keep you safe. I've
killed
for you. Did you think I'd forget what you mean to me? That anything in this world— in any world— would be stronger than my love for you?"
~~~~~
"It's not like I'm going to run up and hug him."
His expression turned bland. "I'd sure hope not. I might get jealous."
"You'd get jealous if she hugged a tree," Archer tossed out.
"Maybe." Daemon coasted to a stop in a parking space behind the car. "I'm needy like that."
~~~~~
"My eyes narrowed. "You said it was a brilliant idea."
"I think lots of things are brilliant ideas. Like nuclear weapons, zero-calorie soft drinks, and blue jean vests," he replied. "That doesn't mean we should nuke people, or that diet drinks taste good, or that you should run out to the local Walmart and buy a jean vest. You people shouldn't always listen to me."
Overall...
Overall, if you haven't yet read Opposition, clear an entire day in your schedule because once you open this baby up, you won't be putting it down anytime soon! I'm sad to say goodbye to the series, but I know it and all of its characters are waiting for me on my bookshelf whenever I want to return to them. Thank-you Jennifer L. Armentrout for writing a series about hot, next-door neighbour aliens in high school...our swoony-meters thank-you also ;) Have you read Opposition? What were your thoughts on this conclusion? Be sure to let me know in the comments below! Keep reading!