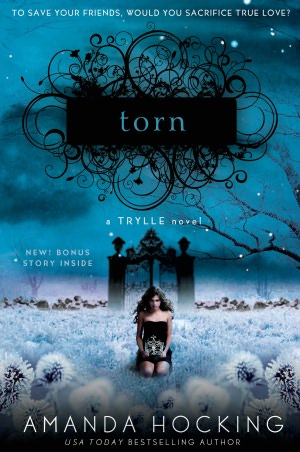 Author: Amanda Hocking
Pages: 324 (Including never-before published bonus story: One Day: Three Ways)
Rating: 3.5/5
When Wendy Everly first discovers the truth about herself-that she's a changeling switched at birth-she knows her life will never be the same. Now she's about to learn that there's more to the story…
She shares a closer connection to her Vittra rivals than she ever imagined-and they'll stop at nothing to lure her to their side. With the threat of war looming, her only hope of saving the Trylle is to master her magical powers-and marry an equally powerful royal. But that means walking away from Finn, her handsome bodyguard who's strictly off limits…and Loki, a Vittra prince with whom she shares a growing attraction.
Torn between her heart and her people, between love and duty, Wendy must decide her fate. If she makes the wrong choice, she could lose everything, and everybody, she's ever wanted…in both worlds.
As a special gift to readers, this book contains a new, never-before-published bonus story, "One Day, Three Ways," set in the magical world of the Trylle.
Torn is the second book in the Tryllle series by internet sensation Amanda Hocking. Torn takes place after the events in Switched, and continues to tell Wendy's story. I actually went to the book store yesterday specifically to buy this book because I was so excited, and I ended up reading the whole thing from 11pm to about 2:30am......so excuse me if I "sound" a bit sleep deprived. First impression: I didn't like Torn as much as I did Switched, not to say that Torn wasn't good but I liked Switched a lot better.
*I know that I warn you guys that my entries may contain spoilers....but I think the rest of the post may contain a lot of them...*
Two major pow-wow moments go on in Torn. For one we find out that Wendy is not only Trylle but half Vittra as well! This makes her entitled to make a decision on which kingdom she will end up ruling. But no, it doesn't stop there! Wendy now has to get married once she turns 18 to Trove.......and, wait for it...... Trove is gay. Blew. My. Mind. Honestly, I couldn't help myself from laughing when I read about Trove being gay- it was just so unexpected. We'll see how long that marriage lasts.......
I just loved seeing a more mother-daughter relationship brew between Wendy and Elora. Once Wendy found out Elora was dying, their relationship just became more positive than negative. With this new relationship, I found that Wendy really started thinking more like a queen. She showed authority and made decisions that would benefit the kingdom- not just herself. Torn is definitely a book where I saw a complete growth in Wendy's character when you compared her to the beginning and the end.
Torn was not as action-packed physically as Switched was. Torn took more of the role of providing us with history of the Trylle, and acted as an opportunity for some questions to be answered. Because of this, I got frequently bored towards the middle of the book. The romance was not as dominate, and at times, I found it quite confusing. We see that Wendy still has these powerful feelings for Finn (even though he's trying to ignore her at all costs) but all of a sudden, BAM, we've got Loki thrown in this dysfunctional picture. I really didn't get why Wendy was so hung up on Loki. Yes, he let her escape the Vittra but other than that, all he's really done is throw Wendy a few clever lines. UGHHHH get away from her Loki- she's Finn's! *makes hissing noise* There was also no growth between Finn and Wendy's relationship. In fact, I think it went a bit backwards. I'm hoping (fingers crossed, knock on wood, touch black) that this really changes in Ascend.
Torn's cover is really beautiful. Like Switched, Wendy is on the cover but is now dressed in black, and holding a crown. I'm thinking that the black dress represents the black dress Wendy wore when she met her father. What do you guys think? The cover also takes on more of a cold feeling with all the various shades of blue- but I think I may like it even more than I liked Switched's cover.
"And I'm stuck in it with no way out. I love you, and I can't stop, and you don't even care!" -Wendy
"I don't know. After the downstairs, I assumed something creepier and dirtier." I shrugged."You didn't have electricity down there." "It's for dramatic effect." Loki gestured widely. "It's a dungeon." -Wendy and Loki
~~~~~
"As a rule, I don't enjoy being tossed into closets and having the door shut on my face, but I knew he was protecting me."-Wendy
Overall Torn was a good second book to the series. Although I didn't fall madly in love with it, it definitely got me excited for the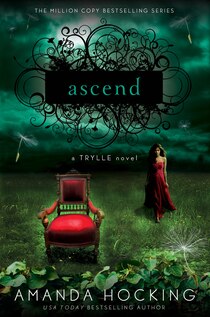 third book, Ascend, which comes out on April 24, 2012:
Wendy Everly is facing an impossible choice. The only way to save the Trylle from their deadliest enemy is by sacrificing herself. If she doesn't surrender to the Vittra, her people will be thrust into a brutal war against an unbeatable foe. But how can Wendy leave all her friends behind…even if it's the only way to save them?
The stakes have never been higher, because her kingdom isn't the only thing she stands to lose. After falling for both Finn and Loki, she's about to make the ultimate choice…who to love forever. One guy has finally proven to be the love of her life-and now all their lives might be coming to an end.
Everything has been leading to this moment. The future of her entire world rests in her hands-if she's ready to fight for it.
What do you guys think of Torn? Does it make you anxious for book three? Be sure to leave a comment or follow me on twitter. Keep Reading!