Yes, it is that time of the week. The day we dread and wish would never come- Mondays.

*Wipes tear*

But have no fear, Memory Lane Monday is here! Every Monday, here at TheYABookworm, I'll do a special post called Memory Lane Monday. What's that you ask? Memory Lane Monday is a once-a-week post where I (or any other bloggers that wish to participate) choose one

book that I've previously read to be featured on that day. From the book chosen, I will pick two of my favourite quotes and write a little blurb containing my quick thoughts on the book. The books that I choose will not be books I've reviewed- since I've read so many books, I want to share with you my opinions on ones that I won't get the chance to fully review (because seriously, rereading dozens of books would take a year...or two)! Be sure to participate by leaving your "Memory Lane Monday" in the comments, or a link to your blog post with the hash-tag

#YAMemoryLaneMonday on twitter :D
This Weeks Memory Lane Monday...
Vampire Kisses-The Beginning By: Ellen Schreiber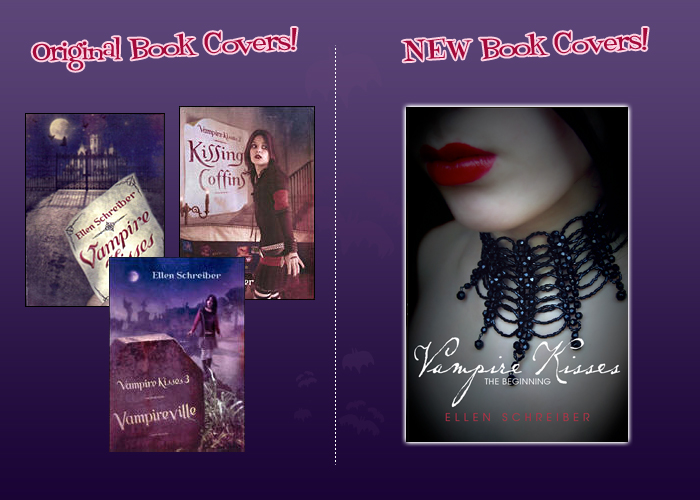 New guy in town.
Rumors of vampires.
Dangerous first love.
This is where it all begins. . . .
The mansion on top of Benson Hill has stood empty for years. But one day it seems to be occupied, and its mysterious, handsome inhabitant Alexander Sterling becomes the source of much talk around town. Raven, a vampire-obsessed Goth-girl who has always considered herself an outsider in "Dullsville," is determined to uncover the truth surrounding the secretive Alexander. As she gets to know him, and their spark intensifies, Raven finds herself in some unanticipated situations. Can Alexander make her lifelong dream come true? But love always has its complications—especially when it can only be awakened at nightfall.
The first three books in Ellen Schreiber's bestselling Vampire Kisses series capture the thrill of a most unusual romance.
Top Two Favourite Quotes...
#1
"He looked so lost, so soulful, so lonely. I wanted him to kiss me now. I wanted to let him know I was his for all eternity."
#2
"I always felt sorry for humans, spending so much time in front of the mirror. Fixing their hair, makeup, and clothes, mostly to impress others. Did they really see themselves in the mirror? Was it what they wanted to see? Did it make them feel good or bad? And mostly I wondered if they based their self-image on their reflected one."
Vampire Kisses is the first instalment in author Ellen Schreiber's Vampire Kisses series. Back in 2009 a new cover was given to the series, and books one, two, and three were put together in one volume. So, technically, we're "remembering" three books this week!
I first read this book(s) quite a few years ago when I was just started getting into reading. I immediately loved the story because it felt like such a traditional vampire story- a Goth, vampire-lover girl meets and falls in love with a vampire *
Hazahh!
* And although there is more to the plot, I've always looked at this series as a simple love story between a human and a vampire.
All of the books are close to 200 pages- making each book the perfect light read (especially for the younger bookworms out there). These first three books are what pulled me into Raven and Alexander's story and made me fall in love with this couple. Their romance is both sweet and amusing- definitely the best part of the entire series! You'll fall in love with the dramatic and passionate Raven, and swoon over the protective and handsome vampire, Alexander.
Well bookworms that's it for now- don't want to spoil anything for you! If you've read Vampire Kisses (or the entire series) let me know in the comments what you thought of these books! I always love reading all of your comments! See you next Monday!
Caitlin <3
Check out my review for the last book in the Vampire Kisses series, Immortal Hearts, HERE!