This Week's Question...
Activity! Who do you want to be? If you could choose any character from a book. What do you think that character looks like and what do you have in common?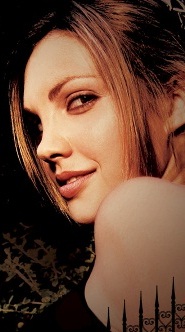 This is a really hard question for me to answer because there are a ton of fictional characters I wish I could be, but if I had to choose one right now, I guess I would say Rose Hathaway from the Vampire Academy series by Richelle Mead! Rose has dark brown hair, eyes and is about the same height as I am.
I don't necessarily think Rose and I have a lot in common- but it's those differences that make me love her character so much (I mean, she's a dhampir.... and I'm 99.9 percent sure I'm human)! Rose is mentally and physically strong, sarcastic, and isn't afraid to say what she thinks- all traits I envy about her character and wish I had more of. Not to mention that she's got a really swoon-duper boyfriend...*thinks about Dimitri*...oh yeah, I definitely want to be Rose ;P
Who do you want to be? Be sure to let me know in the comments below and leave me links to your FF! I'll be sure to comment, visit and follow back :) Happy Friday!
Your Y.A. Bookworm,
Caitlin <3