Let the squealing and fangirling begin! Tonight at 7pm EST the cover for City of Heavenly Fire by Cassandra Clare, the LAST *sob* installment in the Mortal Instrument series, was revealed on The Insider!
TA-DAHHHHHHHHHH.................................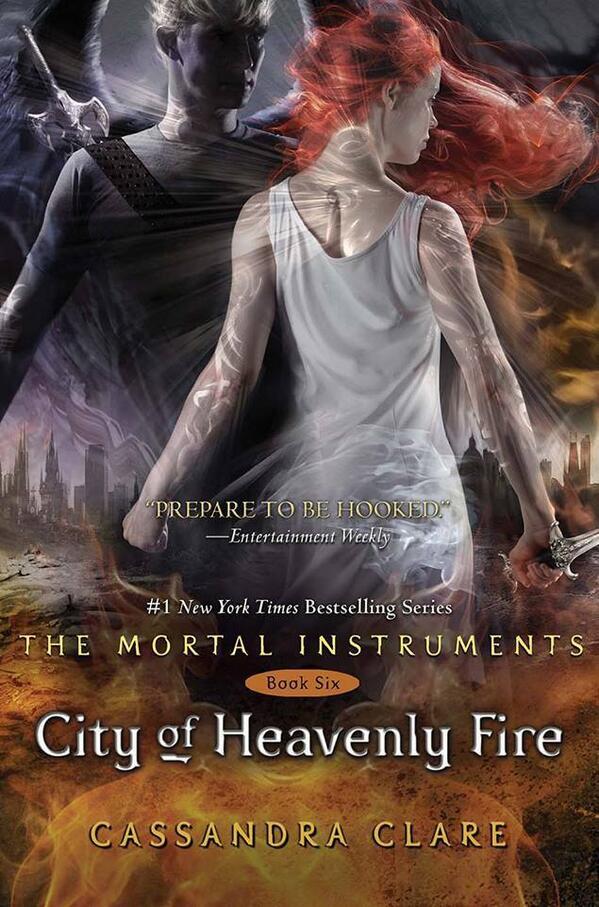 City of Heavenly Fire
I'm feeling both the fierceness and intensity of this cover......OH GOSH, HOW I NEED THIS SO!
Cassandra Clare confirmed it is Clary AND Sebastian on the cover!! *HYPERVENTILATES*
@CassieClare: "

Jace, Alec, Izzy, Simon, and Maia have the inside of the cover"

*CONTINUES HYPERVENTILATING*
I think this is the first time ever a character's back is shown on the cover-- gives it a different kind of feel!
LOVE seeing the dark trend that started in City of Lost Soul's cover continue into City of Heavenly Fire's!
People on Twitter questioning why Clary was wearing white?! Coincidence or just random? JACE IS NOT ALLOWED TO DIE! THAT IS A COMMAND (For those of you who don't remember, white in this world is the colour of mourning....so be scared!)....I can't be having no Allegiant repeat!
Someone on Twitter was upset because they wanted to see Church on the cover....me too....me too :P
What do you think about the cover? Are you excited , scared or BOTH to read City of Heavenly Fire?! Be sure to let me know in the comments below! Keep Reading!