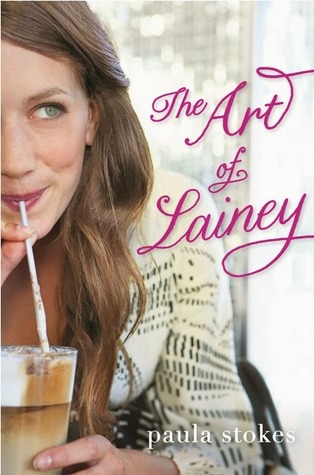 The Art of Lainey
Author: Paula Stokes
Publisher: Harper Teen
Pages: 384
Rating: 4/5
A copy was provided to me in exchange for an honest review.
Soccer star Lainey Mitchell is gearing up to spend an epic summer with her amazing boyfriend, Jason, when he suddenly breaks up with her—no reasons, no warning, and in public no less! Lainey is more than crushed, but with help from her friend Bianca, she resolves to do whatever it takes to get Jason back.




And that's when the girls stumble across a copy of The Art of War. With just one glance, they're sure they can use the book to lure Jason back into Lainey's arms. So Lainey channels her inner warlord, recruiting spies to gather intel and persuading her coworker Micah to pose as her new boyfriend to make Jason jealous. After a few "dates", it looks like her plan is going to work! But now her relationship with Micah is starting to feel like more than just a game.




What's a girl to do when what she wants is totally different from what she needs? How do you figure out the person you're meant to be with if you're still figuring out the person you're meant to be?
When I first read the synopsis for THE ART OF LAINEY, I immediately knew that I just had to have this book in my hands! I finished it in one day and was left with the biggest smile on my face. I'm a sucker for a good YA contemporary, and THE ART OF LAINEY managed to kick off the "contemporary season" perfectly! If you want a novel that combines romance, friendship, quirkiness and fun, then look no further-- Paula Stokes has got you covered!
Lainey Mitchell has it all. She's a fantastic soccer player, popular, and has an amazing boyfriend named Jason! Lainey's perfect life makes her excited for the summer ahead until, out of the blue, her boyfriend dumps her in public at her dad's coffee shop. In an attempt to save everything she cares about, Lainey and her BFF Bianca look towards The Art of War by Sun Tzu to create operation "Win-Jason-Back."
Part of Lainey's plan to make Jason jealous is to get herself a fake boyfriend! Lainey ends up forming a deal with her co-worker and past childhood friend, Micah, to be her fake bf so they can both win back their exes. Lainey and Micah's relationship was just so flippin' adorable. They come from two completely different worlds; Micah the rocker kid with a killer Mohawk, and Lainey, "Mrs.Popularity." It was fun to see their relationship bloom from this jabbing-insults dynamic into a couple that truly brought out the best in one another! Their relationship does more than just provide us all with a few good swoons, it also plays a crucial role in Lainey's growth as a character.
Lainey's character at the beginning of THE ART OF LAINEY is someone completely different from the character she is by the end of the novel. She comes off as very shallow when we first meet her, but through more and more interactions with Micah (and the guidance of her best friend), we start to see Lainey come to some life changing revelations. I was really happy to see that there was a distinct change that happened in Lainey because I'm not sure I would have liked her as much had she remained the way she was. Aside from her character growth, I found her as a character just simply fun and entertaining to read (....However, there were a few times where I felt like shaking some good old sense into her :P)!
"When you share feelings with someone, or secrets, it adds a layer of complexity to even the simplest things."
Overall, I've put down THE ART OF LAINEY feeling warm and fuzzy inside. T
his book has definitely gotten me into the mood to attack the pile of contemporary novels I've be purchasing over these past couple of weeks. If you've read THE ART OF LAINEY and want more, Paula Stokes is also releasing a novella called INFINITE REPEAT in Micah's POV! YES, I just said MICHA'S POV! It releases in August so be on the lookout for that. Have you read THE ART OF LAINEY? Will you be reading INFINITE REPEAT? Be sure to let me know in the comments below! Keep Reading!
Caitlin <3
Meet The Author...
Paula Stokes is half writer, half RN, and totally thrilled to be part of the world of YA literature. She grew up in St. Louis, Missouri where she graduated from Washington University and the Goldfarb School of Nursing. When she's not writing, she's kayaking, hiking, reading, or seeking out new adventures in faraway lands. Paula loves interacting with readers! Find her online at
www.authorpaulastokes.com
or on twitter as @pstokesbooks.