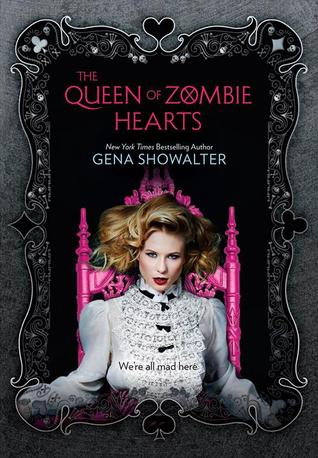 The Queen of Zombie Hearts
Author: Gena Showalter
Publisher: Harlequin Teen
Pages: 464
Rating: 4/5
Release Date: October 1, 2014
A copy was provided to me by the publisher in exchange for an honest review.
I have a plan.




We'll either destroy them for good, or they'll destroy us.


Either way, only one of us is walking away.


In the stunning conclusion to the wildly popular White Rabbit Chronicles, Alice "Ali" Bell thinks the worst is behind her. She's ready to take the next step with boyfriend Cole Holland, the leader of the zombie slayers…until Anima Industries, the agency controlling the zombies, launches a sneak attack, killing four of her friends. It's then she realizes that humans can be more dangerous than monsters…and the worst has only begun.




As the surviving slayers prepare for war, Ali discovers she, too, can control the zombies…and she isn't the girl she thought she was. She's connected to the woman responsible for killing—and turning—Cole's mother. How can their relationship endure? As secrets come to light, and more slayers are taken or killed, Ali will fight harder than ever to bring down Anima—even sacrificing her own life for those she loves.
The Queen of Zombie Hearts by Gena Showalter is the third and final installment in the White Rabbit Chronicles. I can't believe the end is already here! When a package containing an early copy of this book arrived at my doorsteps, lots of squealing and cover stroking went on. However, once I opened up the first page, a somber feeling fell over me because this is it. Never again will I be able to freshly experience those moments of humour and swooniness that I've come to love about this series. I'm happy to report that Gena Showalter gave us an ending that was so fitting for the series. I couldn't ask for anything more- unless there's potential for more Cole to come into my life....I'd be game for that!
Excuse my inability to contain my feels, but I just have to get out my thoughts on the beauty of Ali and Cole's relationship. Individually, both Ali and Cole have clearly grown throughout the course of this trilogy. Ali has become a feisty, tattooed, zombie-fighter while still managing to give us readers a good laugh with her hilarious inner dialogue. And Cole, although still the bad boy we know and love, has become more vulnerable (in that extremely sexy kind of way)! The past two novels in this series have brought along a fair share of difficulties for Ali and Cole's relationship, and Queen of Zombie Hearts did not stop this trend. They had a new obstacle to overcome but in the end, it resulted in them having a more emotionally and physically strong relationship (along with some naughty lines and a few good old make-out sessions ;)
The pacing of The Queen of Zombie Hearts is incredible. The plot moves along at a rapid speed that keeps you entertained, and the novel is filled with action sequences and unveiled secrets that added some WOWZA moments. One of the star qualities to this series, in my opinion, is the group dynamic between Ali, Cole and all of their friends; you can really feel the love that connects all of them together.
Whenever I'm going into a concluding novel of a series, I always have one wish: that the characters I love will get a happy ending. The Queen of Zombie Hearts definitely delivered that, but it didn't come without a cost. The end brought along some heartbreak and tears, but by the time I had turned the final page, a smile was on my face.
Overall...
Overall, The Queen of Zombie Hearts brought together all of the elements from this series that I've loved reading about over the course of these three incredible novels. I'm going to miss Ali, Cole and the rest of the gang.....I still can't believe it's time to let them go! Are you excited to read The Queen of Zombie Hearts? How many times do you think Cole will manage to make you swoon? Be sure to let me know in the comments below! Keep Reading!