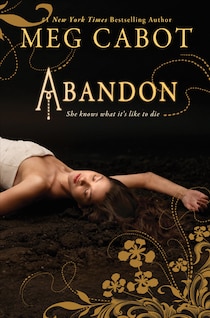 Author: Meg Cabot
Pages: 304.
Rating: 4/5
Pierce knows what it's like to die, because she's done it before. Though she tried returning to the life she knew before the accident, Pierce can't help but feel at once a part of this world, and apart from it. Yet she's never alone...because someone is always watching her.




Now she's moved to a new town, but even here, he finds her. Pierce knows he's no guardian angel, and his dark world isn't exactly heaven, yet she can't stay awaya...especially since he always appears when she least expects it, but exactly when she needs him most.




If she lets herself fall any further, Pierce may just find herself back in the one place she most fears: the Underworld.
Abandon is by New York Times bestselling author Meg Cabot. Meg Cabot has written the popular Princess Diaries series and Airhead trilogy. Meg Cabot is another author that I haven't really read much from- mostly because I'm really focused on the supernatural area of YA books and this is really the first time I've seen something like this from her. Now, this book has been out since April and after passing by this book so many times at my local Chapter (best place ever!) I finally decided to get it. Wow, am I glad that I did! Abandon was a great read!
My major problem with this book was that it was a bit slow in the beginning, but I've come to expect that from most books that are part of a trilogy. Not everything can happen in the first book so it's not going to get fully action packed until at least the middle of the book. Even with it being a bit slow, I found you really learn a lot in the first 100 pages (Pierce's death, her trip to the Underworld, John) so that kind of made up for it.While reading online I also saw that some people complained about how Pierce would mention a past event that happened, such as the incident at her last school and wouldn't explain it till later. This was something I actually really liked because it kept me asking questions and wanting more- which I think you need to keep yourself enthralled with the book!
One thing I really like about this book was John. John first appeared to Pierce when she was seven years old after her grandfather's funeral. Then, at fifteen when Pierce dies she meets him again in the Underworld and is kind of tricked into staying with John forever in a house and misses her "boat" to her final destination after death. Pierce ends up managing to come back to life but continues to be visited by John whenever she's in danger. Pierce and John's relationship is kind of hot and cold- John always seems to be angry at Pierce but, for some reason, is always there when she needs him the most. The development in their relationship throughout the book was really great to read- I was definitely rooting for John and Pierce to become a couple! Of course we only get to see this happen toward the end of the book, sigh, but I have to say that I found myself yearning to turn to a page where John was in it (what can I say, I love bad boys- whether their fiction or not).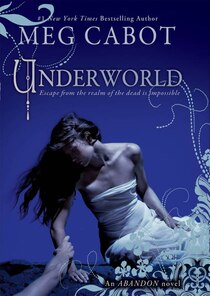 Another part I enjoyed about Abandon was the "retelling" of the Persephone myth. The necklace that John gives Pierce when she was in the Underworld is part of this Greek myth. The myth says that Hades gave a necklace to Persephone so she would be protected from furies- furies were explained in the book as spirits who greatly disliked Hades at the time. You can definitely see the connection between the Hades/Persephone myth and John/Pierce story, so I'm looking forward to discovering more in the next books.

Overall...


Overall this book kept me very entertained and when it came to the end I was sad (and extremely tired since I stayed up very late to finish it). I'm really looking forward to finding out more about Alex and Seth's history, Coffin Night, and of course reading more scenes between Pierce and John ;) The next book Underworld is set to be released on May 8th 2012- same day as City of Lost Souls by Cassandra Clare! This book has received many mixed reviews but personally I think if you like Greek myths, dark romance and lots of mystery then this book is for you. Abandon gets my bookworm rating of 4/5. What are you guys looking forward to in book two in the Abandon trilogy?? Until the next adventure...