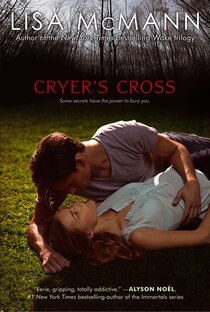 Cryer's Cross
Author: Lisa McMann
Pages: 232
Rating: 4/5
Kendall loves her life in small town Cryer''s Cross, Montana, but she also longs for something more. She knows the chances of going to school in New York are small, but she''s not the type to give up easily. Even though it will mean leaving Nico, the world''s sweetest boyfriend, behind.
But when Cryer''s Cross is rocked by unspeakable tragedy, Kendall shoves her dreams aside and focuses on just one goal: help find her missing friends. Even if it means spending time with the one boy she shouldn''t get close to... the one boy who makes her question everything she feels for Nico.
Determined to help and to stay true to the boy she''s always loved, Kendall keeps up the search--and stumbles upon some frightening local history. She knows she can''t stop digging, but Kendall is about to find out just how far the townspeople will go to keep their secrets buried....
Cryer's Cross is by New York Times bestselling author Lisa McMann of the Wake Trilogy. Even though I have not read the Wake Trilogy before, I have read great reviews on this author and I was very excited to read this book. I'd like to start off by saying that Cryer's Cross was a very light and entertaining read. With the combo of an intriguing storyline and 232 pages, I was able to finish the book in a matter of hours.
First I'm going to state the small problems I had with this book. For one, the writing style McMann did for chapter one kind of threw me off. Since I'm not really familiar with her books, I immediately started to worry that this was the way the whole book would be written. Fear not fellow bookworms- this wasn't the case ! The more apparent writing issue with me was how I found Kendall quite often referring to herself in third person. I just recently read a book that did this throughout the whole book and it really bothered me while I was reading. Although that being said, this was a very minor issue in this book so it didn't really change my thoughts on the book at all.
Probably my biggest complain about the book is I would have loved to have seen (....or I guess read...) more Kendall and Jacian- which by the way, I still don't know how to pronounce this guys name! Because of the short length of the book, I didn't get as much actual romantic scenes between the two character as I would have wanted. Now this is probably a more personal concern because I often read these big series with all these tiny (but amazing ) moments between the main characters that I've come to expect them in most of the books I read. I mean City of Fallen Angels, Hush Hush......if you've read them than you know what I mean ;) This is what really prevented me from giving this book five stars.
Now these small complaints don't really compare to all the things I loved about this book. Firstly I really loved seeing the strong bond Kendall has with Nico. The loyalty Kendall had to Nico throughout the book was respectable ( and sometimes extremely frustrating when I was desperate for those Kendall and Jacian moments!). I also really liked how McMann incorporated OCD into the storyline. She did it in a way that was educating and (without giving away any spoilers) made it really part of the story's conclusion. When reading the acknowledgements I read how Lisa McMann's daughter, Kennedy, has dealt with some challenges with OCD. I found it so admiring that she allowed her mom to share with the world a story that gives bookworms like us, more of an insight and understanding on OCD. Thank-you Kennedy!
Another great part of this book was it's setting. In the small town where everyone knows everyone the disappearances were that much more eerie and thrilling! The town and the lifestyle the townspeople have also made this book stand out from many of the book I have read before. In almost all of the books I've read, it's not typical for the main character to be worrying about potato harvest :P
Cryer's Cross is a perfect mixture of romance, friendship, loyalty, mystery, paranormal activity, and a strong intensity that I couldn't get enough of. Its gets my bookworm rating of 4/5 stars! I'm looking froward to reading more of Lisa McMann's books in the future. Keep Reading!
Love your YA-Bookworm,
Caitlin <3